READERS' STORIES
---
We welcome your contributions. If you have a story you'd like to share, Send us a message via the contact us page and we'll be in touch.
Once we've converted it to a web document, we'll print it here, along with any suitable pictures you have to go with it.
---
Norwegian Magazine interview
An interview with Bill Gundersen, Kay Flavell and Val Burr, printed in a Norwegian local history magazine. Click here to view the PDF
---
Residency Norway- New Zealand
Trondheim sculptor Kari Elise Mobeck completed a NZ residency at New Pacific Studio in September-November 2009. This was followed by an exhibition of works on paper, 'Kete' at Aratoi in April 2010.
Network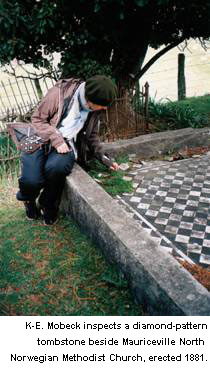 For Kari-Elise Mobeck
Norway-New Zealand
interwoven, like this kete
made on a March afternoon
in Paekakariki
by Stephanie Baxter
nine years ago.
I sat and watched
her fingers twist and flex
damp green harakeke,
stories woven in.
Now part of Normandell.
By a fire in the Coolahan Room
Kari-Elise sits knitting
grey-black Icelandic wool,
a birthday present for Magnus,
older son.
Johannes croons and strums
his new guitar.
Out in her studio
in the Isakson-Love Cottage
Kari draws with a silver pen.
Inside is quiet concentration.
Outside the wind,
rainstorms and rabbits,
sun shining on red geraniums
and straggling thyme,
cloud shadows moving fast
across Bridget's steep hill paddocks,
or night skies with waxing and         waning moon
hanging in a tent of blackest Indian silk
studded with silver nails.
Whispering roads
lead around the Makakahi River
to the eastern flanks of Pukaha
and back to the road to Oslo
from the farms of Sør-Odal.
In an Ullern churchyard
lies husband/father Lars
but widow Eli and their children
lie here on a steep hillside
below a small white church
with six high windows.
Makirikiri stories are here too.
Interwoven. Whispering roads.
So the net grows,
kete by kete.
Kay Flavell           27 March 2010